Jeff Lavway, Owner /Guide
My love for the woods came at a young age at our family camp on St. Froid Lake where I began hunting, trapping, fishing , and exploring the Great North Maine Woods. I've been in the logging industry for the last 30 years. My guiding career came along in 2004 where it lead to the beginning of a life long dream. I had the opportunity to buy Big Machias Lake Camps in 2017 after working there for a few years. I am excited with what it has to offer and all its present and future potential. The greatest enjoyment my wife and I have is seeing the smiling faces and hearing the great stories the hunters share with us after a day in the woods.
Cory Lavway, Co-Owner
I was .Born and raised in Millinocket Me, and have always had a love for the outdoors and wildlife. I enjoy my time hunting and fishing as well as many other recreational activities. I enjoy learning new things every day I'm in the woods. Jeff and I met in 2017 and found out we make a great team together. We both have high expectations for Big Machias Camps and look forward to each and every new hunting season and the people they bring.
Eric Boyles
Eric Boyles was born and raised in Ashland Maine. He has been a guide for 10 years but with Big Machias/Oxbow Outfitters for 6 years. His childhood consisted of much of the same hunting and fishing that he lives for today. His love for the outdoors and adventure grew as he got older.
He still lives in Ashland with his Wife Danielle and children Landon and Lainey. They spend a lot of their time together fishing,hunting, riding side by side etc.
Eric loves living/working in Northern Maine! One of many reasons is the people. Although there aren't many of us, the ones you find will make it worth it.
Eric's full time job is working for the Town of Ashland Highway Department.
Eric looks forward to working with Big Machias Lake Camps every year because they are all topnotch individuals and like a second family. When you pull in to camp it just feels home and everyone strives to make sure your stay and hunt are everything you want and more.
Tyler Cote
Tyler Cote is from Ashland, Maine and has been a Registered Maine Guide since 2008. Tyler has guided many successful huntrs in his career with countless number of bear, moose with one being 64.5 inches and deer over 200 lbs. Tyler graduated from the University of Maine at Presque Isle with a criminal justice degree and has worked since at the Presque Isle Police Department as Sergeant with a Narcotics K9. Tyler spends all of his time off with his family and guiding for Big Machias Lake Outfitters in the fall.
Scott Cyr
Scott was raised in Northern Aroostook County Maine and his passion for the outdoors started as a kid while shooting rabbits and with a .22 and hunting grouse. After high school Scott persued his career in Fire/EMS in which he worked for over 25 years and currently works for the Maine State Fire Marshal's Office. Scott's love for the outdoors and adventure grew so he started guiding hunts and as a Master Maine Guide brings 20+ years of guiding experience Big Machias Lake Camps. With his extensive experience in the bush Scott specializing in bear and moose hunting and makes it his mission to ensure each hunter is outfitted with a memorable experience in the backcountry. Beyond the hunting itself, Scott says he always looks forward to spending time with great people. "We have a lot of return clients, some of whom have been coming for many years. I always look forward to that, plus every year I get to meet new people".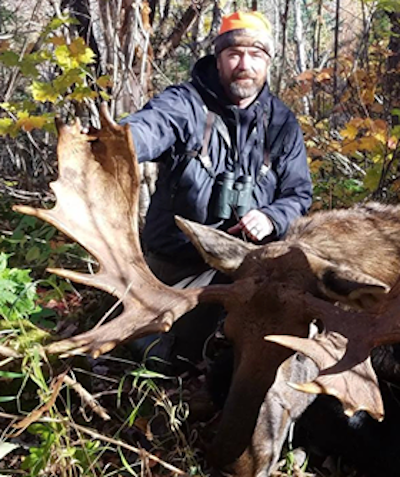 Jay Crooker
Jay's guiding habit started on his own self-guided moose hunt out of Big Machias Lake Camps, where he discovered his knack for locating and calling moose. Working from home for a GPS company, Jay spends his free time hunting and fishing with his two sons and taking trips up North to shed hunt and hang trail cameras.
Ted Tedesco
Ted grew up hunting, fishing and trapping in the game diverse Northwestern corner of CT. He cut his teeth hunting deer and partridge in Maine at a very early age when visiting his grandparents in Old Town Maine.
A graduate of Maine University and former ME resident Ted has been involved in guiding since 2015 and been employed in the outdoor industry since 2018. During his career he has traveled and hunted a variety of game across several states.
Ted takes great pride in providing superior customer service and at any chance he has he loves to introduce new people to the outdoors, young and older alike. When Ted isn't helping a client or friend on their hunt, you can bet he is enjoying the outdoors pursuing one of the many game animals in the area.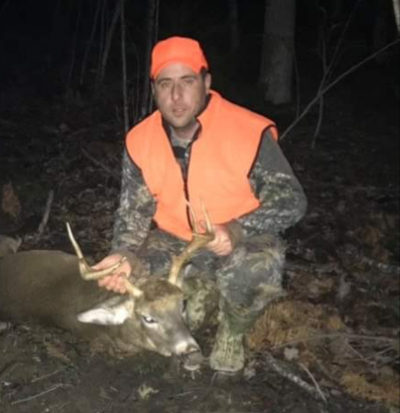 John Roma
I am John Roma. I have been a Registered Maine Guide since 2006 and have been guiding for Big Machias Lake Camps since the 2017 season. I live in the Midcoast area of Maine with my wife and two daughters. When I am not guiding, I am a detective with the Brunswick PD, but I would much rather be in the woods.
Ken Coslet
My name is Ken Coslet, I've been a licensed guide in Maine since 2012 and have been guiding for Big Machias Lake Camps since the 2017 season. I live in southern Maine with my wife and 2 boys and I am a firefighter for the town of Brunswick. I've benn in the woods hunting and fishing since I was a kid and there is no place I'd rather be than in the woods of Maine.
Tom St. Pierre
Toms St. Pierre has been a lifelong hunter and outdoorsman. He has hunted deer and turkey his whole life. Ten years ago he discovered bear hunting over bait. He and his wife fell in love with the sport. Since then he obtained his Maine Guide's license in order to bring others bear and moose hunting.
Tom is married to his wife Nikki who is just as avid of a hunter. In 2016 his wife Nikki, pulled a Maine Moose hunting permit (kind of a once in a lifetime deal). That was the year he discovered the heart of the North Maine Woods and the rest was history. Since then he has been guiding bear and moose hunters for Big Machias Lake Camps.
For a fairly new guide, Tom has a high success rate and is dedicated to ensuring his clients get the experience that will make memories for a lifetime.
Outside of the hunting world, Tom lives in Topsham, Me with his wife and 2 dogs and is a career Firefighter for Brunswick Fire Department. In the off season, he enjoys assisting his wife training her search and rescue dog named Baxter.